How to to achieve customer happiness
Article
How to to achieve customer happiness
Customer satisfaction is no longer enough to compete with top-performing businesses—you need customer happiness. Find out why customer happiness is the secret ingredient to success.
Published December 8, 2016
Last updated September 21, 2021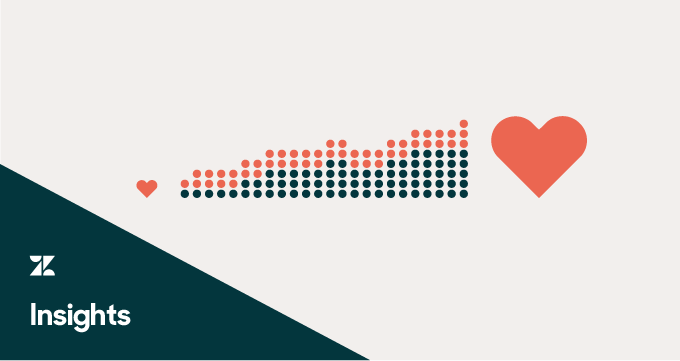 Commonly tracked customer metrics tend to focus on satisfaction—the bare minimum. Was the customer's issue ultimately resolved? Was a negative review left on the website? In other words, how likely is the customer to churn?
Measuring this activity only tells one side of the customer relationship story. Beyond the numbers and facts lies a less tangible but just as vital metric: customer happiness. This factor can't be quantified with a spreadsheet, but it can still be tracked and measured—and it's the differentiator your business needs to succeed.
What's the difference between customer happiness and customer satisfaction?
Customer satisfaction may be a more popular buzzword than customer happiness, but these two performance indicators are not interchangeable.
Customer satisfaction means you've met your customer's basic expectations. Your brand was in line with their standards, but it didn't necessarily offer a memorable experience.
This may initially seem like enough, but the problem with leaving buyers just "satisfied" is that the customer has no emotional connection to your brand. In this shallow relationship, they may repurchase, but they are just as likely to switch to a competitor that offers a better deal. Because the experience isn't exceptional, you're at a high risk of being replaced by another brand in the future.
On the other hand, customer happiness comes from creating a positive, unique, memorable experience that will inspire your customers to share their interaction with others.
Customers who are happy instead of merely satisfied have developed brand loyalty. They're more likely to stay with your brand, despite tempting offers from competitors, and speak highly of your brand to friends and family.
How to measure customer happiness
To measure customer happiness, you have to consider both qualitative and quantitative information.
To track the former, observe and monitor customer activity:
Are buyers recommending your business to others?
Are they engaging with your brand on social media channels?
Are they continuing to do business with you, even when competitors offer more lucrative promotions?
To track the latter, utilize CSAT, Gallup's CE, and NPS scores to move past customer satisfaction into customer happiness.
Customer satisfaction metrics (CSAT)
Customer satisfaction metrics (CSAT)—like the rating a customer gives at the end of a chat, the chat duration length, or the number of conversations missed by a service agent—are a great place to start measuring your customer happiness. CSAT gives you a baseline to ensure you're meeting customer satisfaction before moving on to exceeding it.
You may even have more advanced analytics and reporting features available to you, depending on your customer service software. With Zendesk Explore, for example, you can dig deep on breaking down customer trends, filter your data to customize your metrics, and publish dashboard to collaborate with your team.
Gallup CE
Another quantitative way to track customer happiness is by utilizing the Gallup-developed measure of customer engagement (CE11). This measures the strength of a customer's emotional connection to a company. The score comprises 11 items that Gallup's research shows are critical to a customer's emotional loyalty to a brand, including pride, passion, confidence, and integrity.
While Gallup's research showed only a weak correlation between customer satisfaction and business success, it showed a considerable relationship between high CE11 numbers and business success.
Net promoter score (NPS)
You can also measure customer happiness with a Net Promoter Score (NPS), which comes down to a single question—"how likely are you to recommend this company to a friend?"
Participants answer with a 0-10 rating (0 being not at all likely, and 10 being highly likely), and, depending on their answer, are grouped into detractors, passives, and promoters:
A score of 0-6 makes a customer a detractor—they're unhappy with your service and are likely to speak negatively of your brand to others
A score of 7-8 makes a customer a passive—these are your satisfied customers who can easily be lured away by competitors because you haven't made them truly happy
A score of 9-10 makes a customer a promoter—they're both enthusiastic and loyal to your brand and are valuable partners in increasing your company's growth
The message is pretty simple with NPS—the more 9's and 10's you receive, the more you're reaching true customer happiness.
3 ways to improve customer happiness
While satisfied customers might repurchase in the future, happy customers will actively promote your brand and build success for your company.
Here are three ways to help you move past customer satisfaction into customer happiness.
1. Make an emotional connection with your customers
Giving your brand a memorable personality is a great way to start building customer rapport and trust.
One idea is to utilize your "about us" page to show your company's personality with candid headshots and down-to-earth bios. The visual commerce software Curalate chose this method to give their about page some real flair, with hilarious, comedic photos of each staff member that ooze personality.
You can also share stories about what makes your company passionate about the work it's doing. OptimoRoute is a great example of a company harnessing the power of stories. The delivery route planning company has an entire section of its website devoted to stores about clients' collaboration with the brand that led to success. It not only works as a testimonial to the company, but it also shows what the brand is passionate about.
You can also consider including candid pictures of your staff, or a video from your founder explaining what makes your company different. Bringing out this human element of your business will build customers' trust in your company.
2. Prioritize providing an excellent customer service experience—every time
The 2020 Zendesk Customer Experience Trends Report found that 57% of respondents said excellent customer service was the element that made them feel the most brand loyalty. Seek to delight your buyers during every customer service interaction to encourage retention.
The survey also found that when interacting with a customer service representative, long hold times caused the most frustration.
If your company struggles with wait times:
Consider increasing your support staff
Or, provide multiple channels of support—like email, live chat, AI Chatbots, and a help resource center—so customers have multiple ways to resolve issues
Roughly half of customers polled said they would switch to a competitor after just a single bad customer service experience. So if you have a negative customer interaction, ensure that someone follows up personally with the upset customer and shares clear steps for resolving the issue as soon as possible. This promptness can go a long way in growing customer loyalty and repairing relationships.
3. Keep customers involved in your business
A customer who actively engages with your business is more likely to promote your brand positively. If they're constantly having positive interactions with your company, they're regularly getting value out of the customer relationship.
To keep customers engaged:
Cultivate an active social media account with a dedicated employee to respond to comments and posts
Create a blog on your website that addresses common customer pain points
Once you've fostered brand loyalty through engagement, consider establishing a customer loyalty or referral program. Reaching out to acknowledge those customers who have gone above and beyond in promoting your brand can also be invaluable in getting their continued support.
Customer happiness could be the difference between success and failure
Today's consumers have higher expectations than ever before when it comes to excellent customer support. Aiming for satisfaction isn't enough to win loyal buyers—your company needs to achieve true customer happiness. Emotionally connected customers are not only more likely to remain loyal to your product but also to promote its merits to others in their social circles.
Make your current metrics work harder for you by using them to ensure you're consistently satisfying customers, and then move beyond them to strive for customer happiness. Happy customers are vital to the growth and stability of your business and give you the opportunity to take any minor inconvenience and turn it into a brand win.
5 top customer experience trends for 2020
Download our 2020 Customer Experience Trends Report to discover what we learned from talking to 45,000 businesses.