Why delighting customers doesn't pay
Why delighting customers doesn't pay
Last updated July 14, 2022
Rick Delisi, co-author of The Effortless Experience: Conquering the New Battleground for Customer Loyalty, visited Zendesk as part of our company's "Lunch & Learn" speaker series and delivered some shocking news. In customer service, where we often focus on creating a delightful customer experience, it turns out delight doesn't pay. Say what, again?
Sadly, the "wowing" effect just doesn't do much for driving customer loyalty. The conventional wisdom of companies needing to win back customers by performing over-the-top acts to please them is outdated. A study by The Corporate Executive Board (CEB) found that delighting customers who contact customer service just doesn't pay in the long term. Instead, customer loyalty is driven by how well a company delivers on its basic promises and solves day-to-day problems.
"The truest test of loyalty is when something goes wrong," said Delisi. "Our goal is to prevent those who are loyal from becoming disloyal."
The CEB surveyed 125,000+ customers, 5,000+ customer service representatives, and 100+ companies, and the effort resulted in three main findings:
1. Delight doesn't pay
As it turns out, delightful moments only happen about 16 percent of the time while increasing operating costs by 10-20 percent. Is that a good deal? No, simple math tells us we should probably try something else.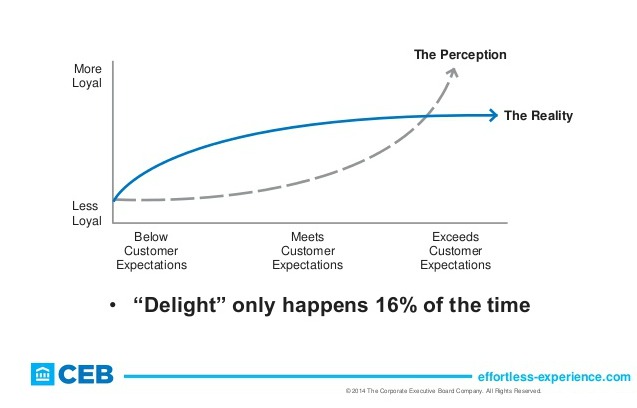 The chart above shows the relationship between loyalty and customer expectations. The company perception is that there is a strong positive correlation between exceeding customer expectations and growing loyalty. But the reality looks quite different. After you get past the point of "meets customer expectation," loyalty growth slows and customers are not more loyal even if you are putting in more work.
2. Service drives disloyalty
According to the authors' research, any customer service interaction is four times more likely to drive disloyalty than to drive loyalty. This concept might sound counterintuitive at first, but is actually a fair assessment. The very fact that customers initiate contact with support due to a problem automatically makes them more disloyal to the product or company. At this point, as Delisi stressed in his presentation, the main focus of a customer representative should be to solve the problem as quickly as possible and return the customer to a state of neutrality.
When problems are not solved, the consequences can be nightmarish. The findings also indicated that disloyal customers are much more likely to spread that disloyalty to other potential customers through negative word of mouth. While the results of this study might be disappointing at first glance, this discovery can be a valuable tool to help redefine your support strategy.
Annie Woo, Vice President of Customer Service at Mindbody, shared at our Illuminate event in San Francisco how The Effortless Experience influenced her support organization:
3. Mitigate disloyalty by reducing effort
The CEB's data also revealed that there are specific ways customer service can drive disloyalty. These drivers are mainly associated with the amount of work and effort customers must put forth to get their problems resolved. For instance, having to contact the company more than once has a huge negative impact on customer loyalty.
As Delisi explained it, companies often pride themselves on having a high first contact resolution (FCR) rate, but often that is not the end of the customer issue. Representatives need to start proactively suggesting ways to solve issues that will likely happen after having resolved the original problem. This little trick is called next issue avoidance and it is helpful in preventing customers from calling again and again, unnecessarily, which in turn chips away at their loyalty.
The lessons we learned
The moral of the story is that we need to start looking at customer service from another angle and to question long-held beliefs about winning customers and their loyalty. The Effortless Experience helps us understand our customers from a refreshing perspective: they don't want you to go above and beyond. They just want you to meet them where they are.
Interested in reading The Effortless Experience for yourself? You can order a copy here