Email Management Software
A guide to the best email management tools
Rather than displacing email, new developments—such as the expansion of service channels, analytics, automation, and AI—have only served to reinforce emails' fundamental role in customer support.
Given email software's critical role in customer service, it's important to research carefully so you can find the best email management tools. To that end, this page will review the best tools on the market, the features you should look for, trends to be aware of, and more.
What is email management software?
Email management software is an application that helps you send, reply to, track, and organize emails en masse. This software encompasses a variety of solutions that cater to individuals as well as teams and organizations. Essentially, email management software is designed to help you more effectively manage large volumes of incoming and/or outgoing email.
What is email management software used for?
As mentioned, email management tools are used by both teams and individuals. Internal support teams, such as IT, and external service teams use email management software to ensure support requests are handled appropriately. In the context of support, email management tools help service agents do things like track inquiries, collaborate with other agents, and automate email routing.
Email marketers may also use email management apps to sequence and automate email nurture campaigns, track opens and click-through rates, and send mass emails.
Comparison chart for the best email management software
Software

Starting price
(/user/month)

Free trial/plan

Key Features

Zendesk

$19

Email with unlimited addresses
Native email automation
Canned responses
Advanced tracking and measurement
Shared inbox
Branding and workflow customization
Seamless omnichannel support

Hiver

$12

Gmail-based interface
Unlimited shared inboxes
Proactive collision monitoring
Shared drafts
10-user max

Front

$19

No

Up to 10 users
Shared team inboxes
Ticketing rule templates
Omnichannel ticketing

Sendinblue

$25/month

Native email designer
Email personalization
SMS marketing
Advanced segmentation

SaneBox

$7/month

Trainable Folders
Power Tools

Microsoft 365

$6 user/month

24/7 web and phone support
Spam and malware protection
Chat, call, and meet
50 GB mailbox
Max 300 users

Gmail

$6 user/month

No

30 GB cloud storage per user
300-user maximum
Phishing and spam protection
Google Drive for desktop
Shared Google Calendar

Klaviyo

$20/month

Segmentation and personalization
Pre-built automations and flow builder
Data science and analytics
Unlimited A/B testing

Mailerlite

$9/month

Unlimited monthly emails
24/7 Email support
Unlimited templates
Drag & drop editor
Email automation builder

LiveAgent

$15

Unlimited email addresses
Universal inbox
Contact fields
Email notifications
Email templates

Help Scout

$20

Analytics
Live chat
Collaboration tools
Ticket routing and prioritization
Omnichannel communication
Top 11 email management software tools
Zendesk email management software has intuitive, yet powerful out-of-the-box functionality. It was built not just to serve customers, but to enhance the customer service agent experience. Among other things, Zendesk's dynamic request forms give employees the right customer context without delay, so they are armed with all the information they need to provide truly personalized support.
Plus, predefined responses, called macros, automatically solve common problems faster by issuing a pre-planned response. With Zendesk, support agents can create and share their own macros in order to quickly respond with a standard reply to recurring customer inquiries. This saves your support team time and enables them to communicate with more customers at once.
Centralize everything with Zendesk
Email may be the foundation of your customer communications, but inevitably, the information your agents need becomes dispersed. If customer purchase history, ticket management functions, self-service content, and collaboration tools are all in different tabs, agents have to scramble to find what they need.
With Zendesk, ticket management functions, collaboration tools, self-service content, and customer details and purchase history are all native to the agent workspace. Instead of scrambling between different tabs, agents have everything they need at their fingertips.
Power conversational experiences with Zendesk
Trust builds when customers feel heard, and Zendesk's email management software is built for just that. With Zendesk, you can deliver conversational experiences connected across email, web, mobile, and social channels. That way, every interaction feels like part of a cohesive conversation because agents never lose context, and customers never have to repeat themselves. Plus, agents can show customers they're being listened to by referencing complete customer profiles containing all the relevant information needed to solve their problems.
Pricing Plans:
Foundational Support
Support Team: $19 user/month
Support Professional: $49 user/month
Support Enterprise: $99 user/month
Zendesk Suite
Suite Team: $49 user/month
Suite Growth: $79 user/month
Suite Professional: $99 user/month
Suite Enterprise: $150 user/month
Free trial: 14 days
Features of Zendesk
Email with unlimited addresses
Native email automation
Canned responses
Integrations and APIs
Tracking and measurement
Shared inbox
Customization
Omnichannel support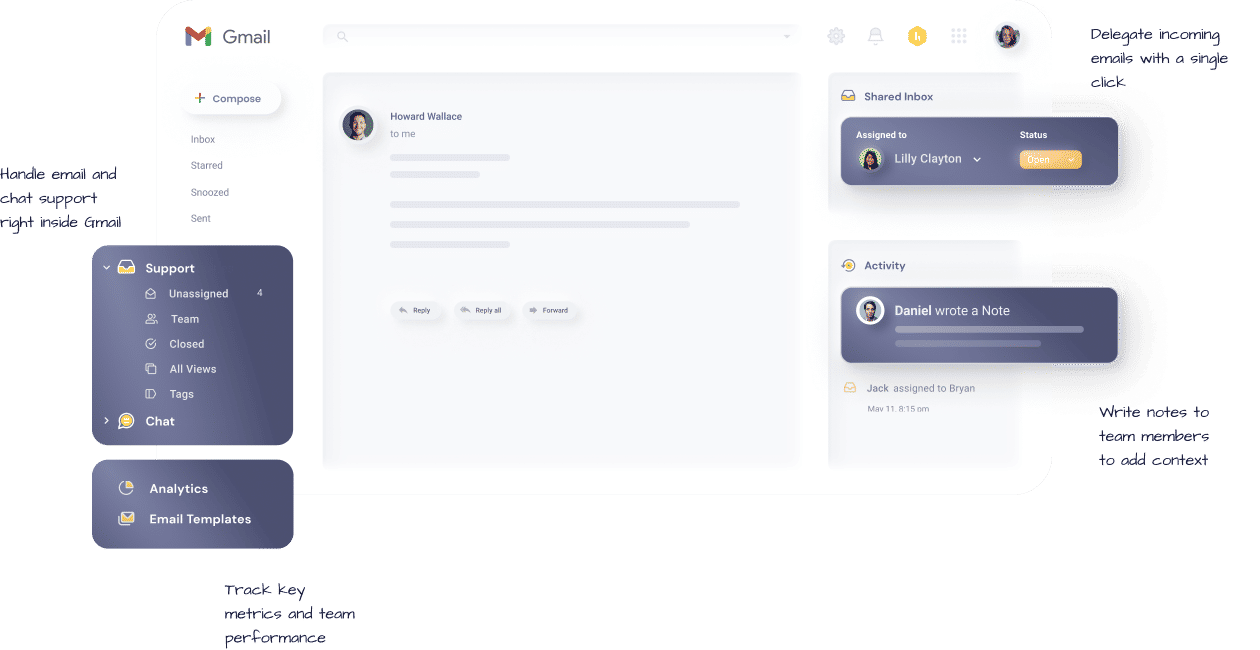 If you've ever thought that Gmail could use some major enhancements, you may want to consider Hiver. That's because this email management application actually lives within your Gmail dashboard. In this way, Hiver enhances your Gmail so that you can use it like you would an email ticketing system. The top features of Hiver include automation, collision detection, ticket routing, and advanced reporting.
Hiver is most popular for companies in the IT, financial services, manufacturing, education, logistics, and travel industries. Also, because Hiver integrates with your existing Gmail setup, it's a good option for support teams who want to add more advanced email management features without learning a brand new system.
If you're on the fence, you can try Hiver for free for 14 days.
Pricing Plans
Lite: $12 user/month
Pro: $37 user/month
Elite $57 user/month
Free trial: 14 days
Features
Ticket tags
Unlimited shared inboxes
Email notes and templates
10 user max
Chat
Shared drafts
Collision monitoring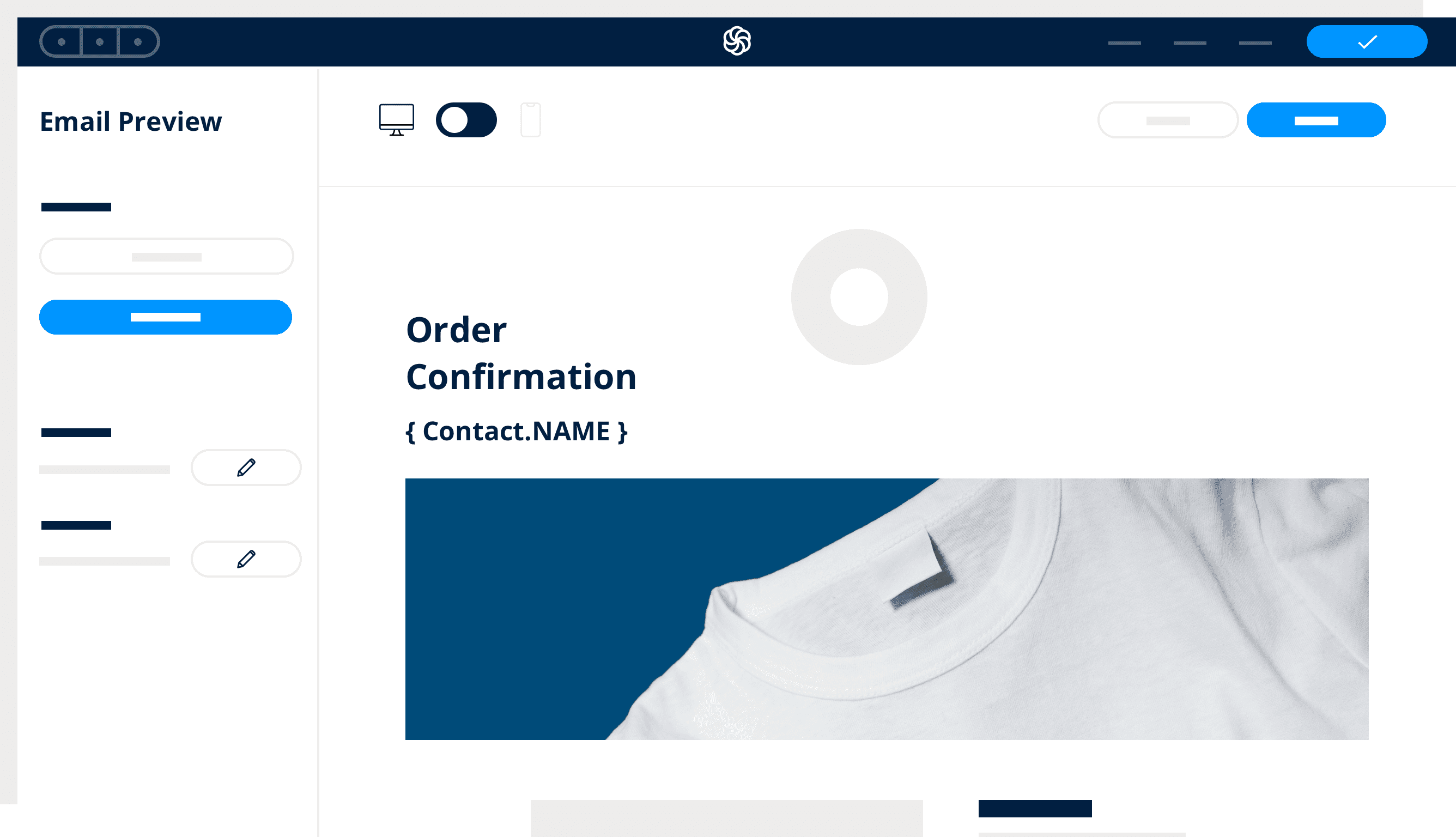 Sendinblue is an email management service that is designed for marketers at small to medium-sized businesses, though there is a package for enterprise needs. This tool includes important email marketing tools such as a native email designer, SMS marketing functionality, and email personalization. On top of this functionality, Sendinblue is also built to help you manage customer contacts with advanced segmentation and a sales CRM.
Marketers can use Sendinblue's reporting features to track campaign performance as well as its shared inbox to seamlessly collaborate on customer inquiries. More advanced plans of Sendinblue include landing page and ad builders, send-time optimization, and A/B testing.
You can't try Sendinblue for free, but you can try their free plan with limited features to get a feel for the tool.
Pricing Plans
Free: $0/month
Lite: $25/month
Premium: $65/month
Enterprise: Get quote
Free trial: Not available
Features
Mobile-friendly email designer
SMS marketing
Email support
Advanced segmentation
Workflow editor
No daily sending limit
SaneBox, which operates based on a simple folder structure, is designed to help you focus on all your most important emails. When you sign up for SaneBox, the software uses AI to sort through your email and place it into relevant folders. Essentially, the idea behind SaneBox is to place all your non-actionable emails into separate folders for later use so you can focus on only your most pressing emails.
For instance, SaneBox's AI finds all your newsletter emails and sorts them into a newsletter folder. It can also find all emails that have you in the CC line and sort those emails into an FYI folder. Beyond its automatic functionality, SaneBox is also very easy to configure. For example, if you move a newsletter into your main inbox, SaneBox automatically starts sorting all future versions of that newsletter into your inbox.
You can try SaneBox for free for 14 days or choose from one of their three plans.
Pricing Plans
Snack: $7/month
Lunch: $12/month
Dinner: $36/month
Free trial: 14 days
Features
Trainable Folders
Power Tools
Email reminders
Do not disturb
Reply tracking
Save attachments to the cloud
Front's email management software is built for customer support teams that want to deliver "one-to-one experiences at scale." With its shared inbox as the core of the solution, Front helps service agents efficiently deliver personalized service. Front caters to finance, customer success, and customer support teams in the B2B tech, financial services, logistics, manufacturing, professional services, and travel industries.
What sets Front apart from other email management applications is its emphasis on facilitating effective team collaboration. Teams in cross-functional teams can collaborate directly on any support request, regardless of channel. Front also brings all your communication together by combining individual email, support team email, and team chats all within one window.
Front offers no free plan and no free trial.
Pricing Plans
Starter: $19 per user/month (min. 2 users)
Prime: $49 per user/month (min. 5 users)
Enterprise: Pricing not available
Free trial: Not available
Features
Email, chat, SMS, and social media ticketing
Ticket collaboration tools
Limited integrations
Ticketing rule templates
Up to 10 users
LiveAgent is a helpdesk solution that includes email management software as one component of its solution. Other, non-email features of LiveAgent include live chat, knowledge base publishing, a customer portal, and a community forum. However, even without those extra bells and whistles, LiveAgent is a worthy email management tool. LiveAgent combines and organizes emails, calls, social media messages, and live chats all in one shared inbox.
From that shared inbox, admins and agents can set up advanced automation workflows and configure integrations to create a highly customized email management system. Teams of all sizes in a variety of industries use LiveAgent for their email management needs. You can try LiveAgent for free with a free trial or by using their free plan. Just keep in mind that the free plan has only a 7-day ticket history and other limitations.
Pricing Plans
Ticket: $15 agent/month
Ticket+Chat: $29 agent/month
All-inclusive: $49 agent/month
Free trial: 14 days
Features
Universal inbox
Contact fields
Email notifications
Tags
Email templates
Email forwarding
API and integrations
Unlimited email addresses
Help Scout is another full-fledged helpdesk that can double as an email management tool. And while the software is fully capable of supporting large organizations, small and medium-sized businesses with large service departments can also get a lot out of Help Scout. Help Scout customers include many newer businesses in the tech and recruiting industries who use the software to manage their internal and/or external support team's email.
On top of its basic email management functionality, Help Scout also provides valuable customer service analytics tools, self-service options, a broad range of integrations, and support for multiple service channels. And if you'd like to try Help Scout's shared inboxes, automation builders, and collaboration tools, you can do so with a 15-day free trial.
Pricing Plans
Standard: $20 per user/month
Plus: $35 per user/month
Company: $60 per user/month
Free trial: 15 days
Features
Rule-based automation
Analytics
Live chat
Collaboration tools
Ticket routing and prioritization
Omnichannel communication
Millions of teams in all industries throughout the world use Microsoft 365, formerly Office 365, to manage their email. Microsoft's dedicated email management software comes as part of Microsoft 365, which includes an entire suite of business productivity tools. On the email front, you'll get email hosting with 50 GB of mailbox storage, you'll get your own custom domain, calendar management tools, custom scripts, spam and malware protection, and a maximum of 300 users.
Also, with your Microsoft 365 subscription, you'll have the ability to chat, call, or meet with up to 300 attendees simultaneously. And your subscription includes access to Microsoft's well-known applications including Excel, Word, Teams, SharePoint, OneDrive, and Exchange. You can install these apps on as many as five computers, five tablets, and five mobile devices, and that includes iOS, Android, Windows, and Mac devices.
Pricing Plans:
Microsoft 365 Business Basic: $6 user/month
Microsoft 365 Business Standard: $12.50 user/month
Microsoft 365 Business Premium: $22.00 user/month
Free trial: 30 days
Features
24/7 web and phone support
1 TB of cloud storage
Spam and malware protection
Chat, call, and meet (up to 300 attendees)
50 GB mailbox
Max 300 users
MS Office applications
Learn more about Zendesk for Outlook.
Similar to how Microsoft delivers its email management software, Google's Gmail is available for free on its own or with premium features as part of Google Workspace. Within Google Workspace, Gmail comes with additional, business-focused features such as 99.9% guaranteed uptime, unlimited storage in Google Drive (on some plans), add-on support, and custom domain names. Gmail is universally valued by teams of all shapes and sizes, from two-person teams to multinational corporations.
Of course, compared to email management apps like Zendesk or Help Scout, Gmail may be prohibitively limited in terms of customer support functionality. Gmail doesn't natively support ticketing management, though it is extensible enough—if you're willing to put in the work—to meet more sophisticated needs. Like Microsoft, though, if you purchase Gmail as part of Google Workspace, you'll gain access to other useful apps like Google Drive.
Pricing Plans
Business Starter: $6 user/month
Business Standard: $12 user/month
Business Plus: $18 user/month
Enterprise: Pricing available on request
Free trial: Not available
Features
Custom business email
30 GB cloud storage per user
100 participants video meetings
300-user maximum
Phishing and spam protection
Google Drive for desktop
Shared Google Calendar
Like Sendinblue, Klaviyo is an email management tool designed for sales and marketing teams who need to send personalized email campaigns. All Klaviyo email plans include segmentation, pre-built automation, data analytics, unlimited A/B testing, one-click integrations, and much more. Also, if SMS is a core part of your marketing efforts, you can add SMS to your email plan.
Klaviyo's real-time customer profiles are especially useful because they provide data about every customer's messages, interactions, and known preferences. Pricing for Klaviyo is based on the number of emails you send and the number of contacts you send the emails to. If you'd like to try Klaviyo, you can do so with a free plan that supports sending up to 500 emails to up to 250 contacts.
Pricing of Klaviyo:
Up to 250 users: Free
Up to 500 users: $20/month
Up to 1000 users: $30/month
Up to 1500 users: $45/month
Free trial: Not available
Features of Klaviyo
Segmentation and personalization
Pre-built automation and flow builder
Data science and analytics
Unlimited A/B testing
Learn more about Zendesk for Klaviyo.
Another trusty email management tool for marketers, MailerLite enables you to create and manage outbound email campaigns, create custom landing pages and signup forms, and build websites and blogs. To top it off, MailerLite's starting plan includes unlimited monthly emails for up to three users as well as 24/7 email support.
MailerLite's email management capabilities include an intuitive email automation builder, RSS campaigns, A/B testing, surveys and quizzes, dynamic email content, and advanced email analytics. MailerLite is also designed to be intuitively usable for non-technical employees and includes robust support options through priority email support, knowledge base content, and the MailerLite Academy. However, 24/7 live chat support is only available on the Advanced plan.
Pricing of MailerLite
Growing Business: $9 / month
Advanced: $19 / month
Enterprise: Custom pricing
Free trial: 30 days
Features of MailerLite
Unlimited monthly emails
3 users
Priority mail support
Unlimited templates
Dynamic emails
Auto resend campaign
Unlimited websites & blogs
Drag & drop newsletter editor
Email automation builder
Signup forms & pop-ups
What features should email management tools have?
1. Email organization tools
Above all else, your email management app should help you organize your emails. How you choose to organize your emails can be a matter of personal preference, which is why you should ensure any tool you choose has the organizational capabilities you need.
Common email organization features include labels, folders, archiving functionality, email flags and stars, snooze buttons, and email handling rules. Also, it helps to have the ability to create multiple accounts. That way, you can create disposable email accounts as an extra layer of security for when you sign up for newsletters or other services you may not want in the future.
2. Customer profiles
Managing email at scale means managing thousands of conversations across time, service channels, products, and more. But if a service agent is responding to an email without the context of a customer's previous conversations with a company, that agent can't hope to provide a great experience.
With an easy-to-reference customer profile built into the email management tool, though, agents can quickly and accurately tailor their service approach to the customer. As a result, agents become more productive by getting to the heart of an issue quicker and customers enjoy better, more personalized service.
3. Automated workflows
As any customer service representative, admin, or manager knows, there are plenty of repetitive processes involved in managing email at scale. So it's imperative that any email management tool has powerful yet intuitive workflow automation tools. Workflow automation allows your team to automatically prioritize, route, and (in certain cases) respond to incoming emails.
For instance, with a good workflow automation tool, you can configure your email management software to deflect one category of emails to self-service content and/or to respond to another category of emails with a canned response. This takes a massive amount of work off your agent's shoulders so they can focus on more complicated inquiries.
4. Email collaboration tools
Basic email management software may help you organize your email, but it doesn't facilitate team collaboration. And seamless collaborations between service agents is key to ensuring customer inquiries are handled quickly by the right person and in the right way.
All this means it's important to find an email tool with features such as shared inboxes, collision detection, and other collaboration features that enable your team to work better together. With these features, you can also create better transparency throughout your service operation so that work isn't duplicated and everyone knows what to focus on.
5. Reporting
Any professional customer service operation needs the ability to track key metrics including (but not limited to):
Customer effort (CES) score
First reply time
Average resolution time
Ticket reopens
Before you choose an email management service, determine what metrics you need to track. And double-check that your email tool provides the capability to measure and report on your metrics. Or, make sure your chosen email solution can integrate with an analytics tool that meets your needs.
What are the benefits of using customer service email management software?
Enhanced productivity
Even the best agents can only do so much. But with customer service email management software, your best agents become that much better. With capabilities like advanced search and spam filtering, less of your agents' time is spent sorting through information and more if it is spent serving customers.
On top of that, workflow automations and rules-based email routing mean your agents can reserve their headspace for customer conversations rather than email logistics.
Tighter security
Any time information is exchanged between your company's and a third party's system, security vulnerabilities exist. Email is no exception. But email management systems have security features, such as encryption, to ensure the sensitive information in your emails is protected.
For example, Google uses Transport Layer Security (TLS) to automatically encrypt the information in your emails. And it notifies you when an email isn't protected by TLS, so you can take extra precautions.
More scalable operations
Perhaps the most impactful benefit of email management solutions is the scaling capabilities they unlock. Without features such as canned responses and automation, the only solution to increasing email volume would be to increase headcount.
But increasing headcount is by far the most expensive way to manage large volumes of email. Not only do staffing costs increase, but ensuring seamless collaboration between agents becomes increasingly difficult. Email management software, on the other hand, becomes even more useful at scale and only gets marginally more expensive as your email volume increases.
What are some relevant email management software trends?
Perfecting omnichannel service is more important than ever
If there's one thing our 2022 CX Trends report showed, it's that customers expect effortless interactions anytime, anywhere. To meet that expectation, switching from email to messaging to voice and back must feel natural. And if agents want to provide a truly conversational experience, they'll need email software that provides quick access to full customer profiles.
Email security and privacy are key to customer trust
It only takes one breach to undo years—even decades—of brand building. And in IBM Security's 2020 report, email was the vulnerability that led to a data breach in 5 percent of all attacks. And the average cost of a malicious data breach by email was over $3.75 million. Suffice it to say, even if they don't express it directly, security and privacy is a fundamental customer expectation that can't be ignored.
Email as a conduit for self-service and personalization
Our 2022 CX Trends report showed that self-service and personalization are key to increasing customer value. 89% of customers will spend more with companies that allow them to find answers online without having to contact anyone. And 90% will spend more with companies that personalize the customer service they offer them.
Email is an ideal conduit, both for distributing self-service content and for managing personalization efforts.
How to choose the right email management system for your business?
Your email management system may be the tool your team relies on the most. So choosing the right software for your team has far-reaching effects. To ensure you focus on the most important aspects of email management applications, ask yourself—and your team—these four key questions.
How difficult is the email management software to implement and use?
One of the most common mistakes any business software buyer makes is to overemphasize licensing costs vs. implementation and maintenance costs. If the software is difficult to implement and use, the cost of deploying and maintaining the system quickly outweighs any difference in licensing costs.
If possible, try to get your and your team's hands on any software before you commit to a long-term contract. Also, speak with whoever is responsible for deployment and see if you can project costs. That way, you'll have a much better reference by which to compare different software packages.
How well does your email software integrate with your tools?
Email has been around since before the internet. And much of its staying power is due to its ability to be extended into a more powerful solution using integrations and APIs. Generally, any time you're considering an email software application, it should be fairly easy to see if it integrates with the tools you need it to.
However, don't assume that just because an email tool has an integration that it's a good integration. Many tools are technically possible to integrate but the integration may not work well and/or it may be very hard to implement.
Does the email system track the metrics you need it to?
Many email systems enable you to collect and analyze the data created through email interactions. But these tools vary in terms of the metrics you can collect. For instance, while some email applications might track open rates, they may not track average resolution. Others may track resolution times but don't provide tools to collect feedback for tracking Net Promoter Scores, for instance.
In any case, it's important to ensure any email management software you choose enables you to track the metrics your team needs it to. Just keep in mind that if a potential email system doesn't track the metrics you're looking for, it may integrate with a tool that does.
How does your email tool's pricing work?
As mentioned before, the licensing cost of your email tool may end up being only a fraction of its cost. But it's still important. And pricing for email tools can vary quite a bit. For example, while Zendesk charges a monthly or annual fee based on the plan you choose, other tools like Klaviyo charge based on how many emails you send and how many contacts you send them to.
One pricing approach isn't inherently better than another; the important thing is to determine how your email tool's pricing model affects your bottom line based on how you plan to use it.
Frequently asked questions
Why do you need email management software?
Communication is central to the success of virtually every company in the world. And email remains the most popular form of communication for customers and employees alike. Email management software enables you to make email communications more effective. In addition to organizing emails and making individuals more productive, email management tools can also track email data to help teams become more efficient.
How much does email management software cost?
Licensing costs for email management software range from $5 or $6 per month, per user for basic plans up to $150 per month, per user for more advanced plans. In total, though, email management software can cost your company significantly more because of ongoing maintenance and one-time deployment costs.
Ready to try email management software?
With Zendesk's email management software, the possibilities for providing great service are limitless. Try it today.
We have more to say about this.
With email management software, the possibilities for providing great service are limitless. Learn more about all the great things you can do: