If you use Zendesk and have MS Teams account, with the help of our app you can create the Teams meeting link in your Chat message easily and make a call with the requester, or even schedule the Teams meeting, add it to your O365 calendar and put the meeting link inside your chat message automatically. Thus, you can plan your support calls with a requester and help them to accelerate the resolution of desired questions.
Main features for free:
Generate MS Teams meeting link in one click;

Join Teams meeting from Zendesk directly;

Simplify communication with a requester;

Decrease your ticket resolution time;

Improve your productivity;

One-click and Teams meeting organized.
Additional features with paid plans:
Schedule MS Teams meetings in one click;

Add meetings to your O365 calendar without leaving Zendesk ticket;

Decide on meeting attendees and send them invitations
After installing Schedule MS Teams meeting for Chat extension open any chat message.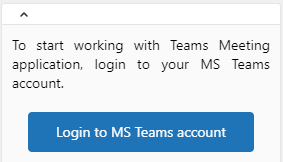 In the right-side APP bar in Chat window, or Chat App panel in Support window you need to select the installed extension, open it, and authorize in your MS Teams account by clicking on Login to MS Teams account.
After clocking Login to MS Teams account, you will be redirected to the MS Teams login page and after successful authorization returned to the page with the app.
If you have already logged into the O365 account in your browser, the authorization will be processed automatically.
NOTE: Depending on your security configuration, at the time of your first installation of the extension the system may ask you to request from MS office administrators access to online meetings.
With free subscription plans, after successful authorization, you will see the button Create MS Teams Meeting on the APP panel. Click this button to generate a unique link for Teams Meeting with your ticket requester. The link will be added to your message, just send it.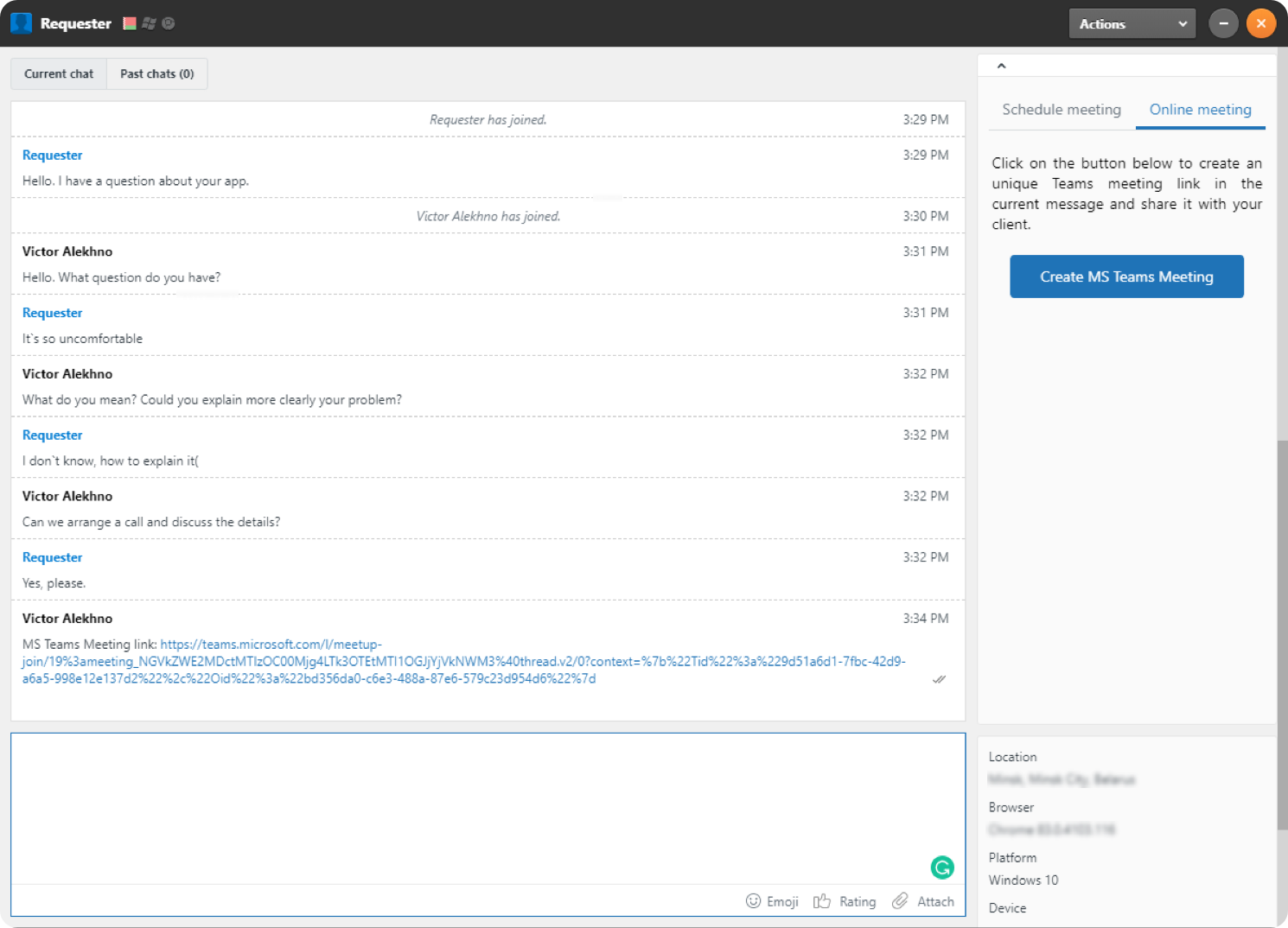 Please, specify a convenient time for the Team Meeting with your partner in the message.
After the time on both sides is agreed, the meeting participants can join Teams meeting following the created link.
Use all available functionality of MS Teams app to discuss the open questions.
With both paid subscription plans, you will have an additional tab in the right-side APP panel with functionality for scheduling MS Teams meeting.
On this tab, you need to put details of a meeting.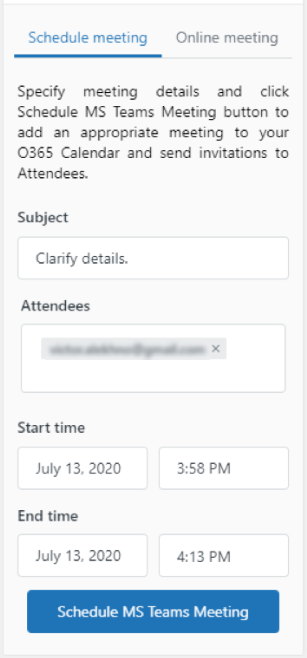 Subject – give a title to a meeting to pay attention of attendees to its topic;

Attendees – the field includes automatically added e-mails of Requester and Assignee. You can edit the list of participants who will be invited to join a meeting. NOTE: Requester e-mail will be added automatically If the requester is logined to Zendesk, in the other case please specify with the requester their e-mail.

Select the date and time for a meeting;

Make sure the entered information is correct and click Schedule MS Teams Meeting button.
As a result, you schedule a meeting by adding it to your O365 calendar immediately and send an invitation to your partners. All information about a meeting is copied to a message in chat.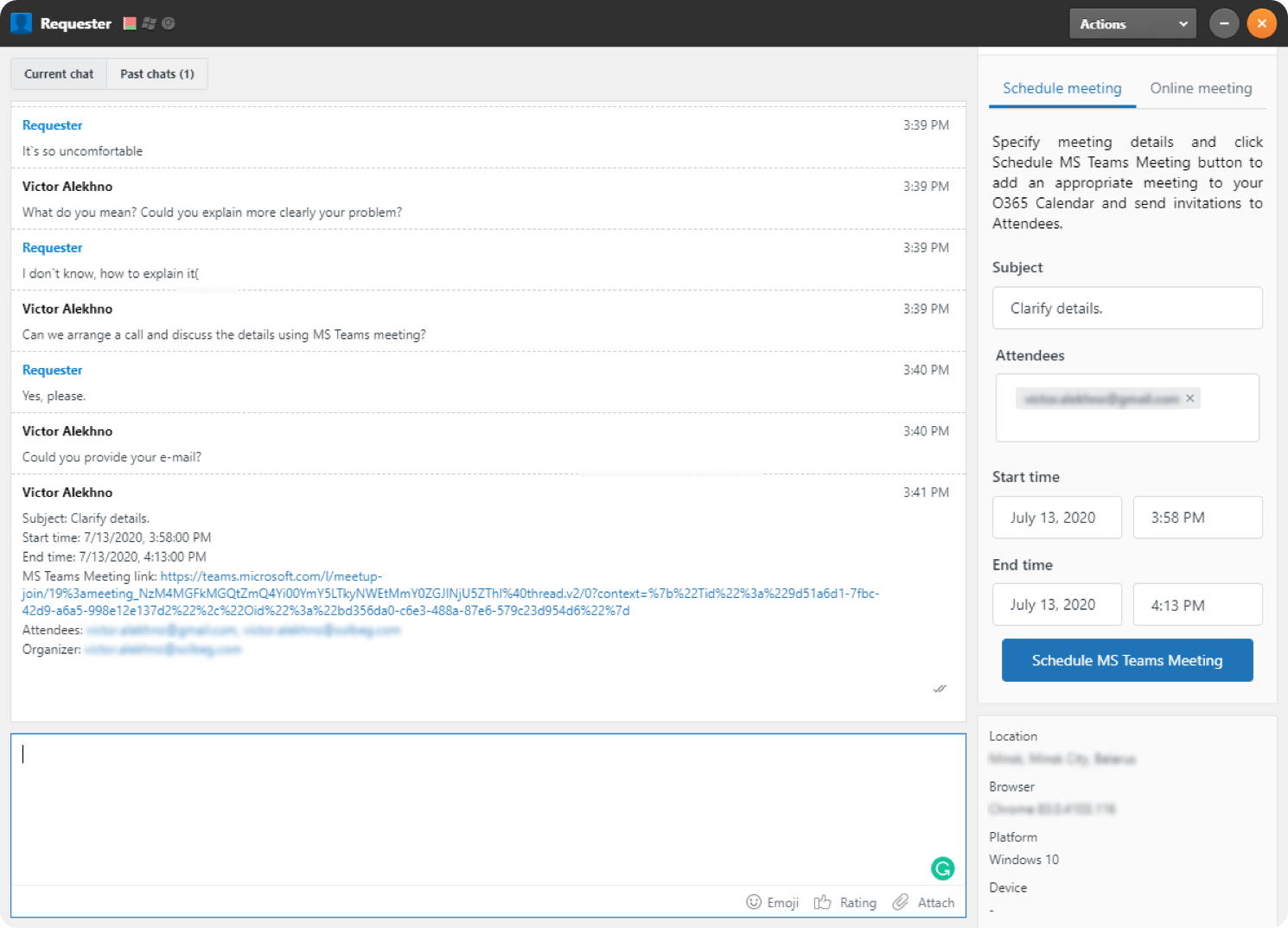 Use all available functionality of MS Teams app to discuss your questions.