Edmunds tackles 50% of CX volume with personalized chat
Edmunds.com manages its highest volume support channel using Zendesk Chat for customer service. Live Help can now provide real-time and mobile-first support in a personalized way, seven days a week, which has driven higher customer satisfaction and more one-touch resolutions.
"Chat provides a great, simple experience for our website visitors, and makes it easy for us to provide excellent service through live monitoring."
- Justin Smith
Manager of the Live Help Program - Edmunds.com
87%
Tickets Resolved in One Touch
Long before Edmunds.com was a website, the company, founded in the 1960s, produced good old-fashioned printed car buying guides.
The company is hardly old-fashioned, though. In fact, Edmunds arrived early to the Internet, and in 1995 launched the first automotive information website. Today, it is one of the most prominent and trusted car shopping sites, providing free tools to car buyers including pricing, vehicle reviews, financing calculators, and useful advice.
Foundational to Edmunds' business is the concept of self-service. By providing a wealth of information and useful shopping services like the upfront car prices of the Price Promise℠ tool, Edmunds works to make the process of purchasing a car less complicated and less expensive. Yet car shopping can be stressful—even emotional. Having provided an online Forum since 1996, the company has been monitoring and participating in on-screen conversations for years. In 2011, the Edmunds team decided to provide even more direct support for car shoppers.
Employees from different departments began to volunteer their time each Wednesday to staff a toll-free number. It didn't take long to see that the demand for personalized, human help was there, and providing live help quickly became one of the company's biggest competitive differentiators.
Now, the Edmunds Live Help team, managed by Justin Smith, offers real-time help seven days a week via live chat, SMS text, email, phone support and social media. The dedicated team consists of five Live Help Specialists plus an additional three team members focused on the customer experience and relaying customer feedback to the rest of the company.
"Customers will often reach out to us a number of times throughout the car buying process, as more and more questions come to mind," Smith explained. "This requires our Live Help team to not only be extremely knowledgeable about a complex subject, but also to be able to track multiple engagements with the same person over time, in order to consistently deliver high satisfaction."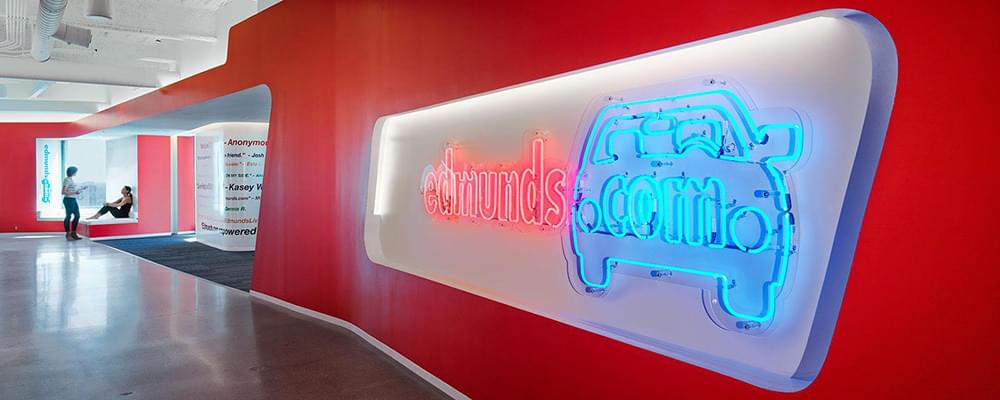 This need for careful and consistent customer relations management led Edmunds to choose Zendesk Support early on in the growth of this service. The growing demand for real-time, even mobile-first support, led the Live Help team to adopt Chat when it first became available in 2014.
Edmunds' Live Help team averages a 12-hour turn-around on all tickets, way ahead of the industry average at 22 hours. But live chat is where the Live Help team sees the most volume (roughly equal to email, SMS, and phone combined). That's because the chat widget is right in front of customers as they search Edmunds.com, enabling customers to get easy and immediate help during business hours.
With Chat, Live Help Specialists are now handling multiple chats at once. "It's a lot easier now to help more customers," Smith said. "The ability to transfer chats between Live Help Specialists, or over to the customer experience team, has also been important for achieving faster resolution times and increased overall satisfaction."
When it comes to metrics, the team prefers to take a holistic approach. They focus on overall satisfaction for every customer across all channels, rather than separating out satisfaction scores for each individual channel.
"We don't really care how the customer contacts us," Smith said. "It's about whatever is most convenient for them." The goal is to be available, and to provide the validation or reassurance that customers are looking for.
Other key metrics Smith tracks in Support and Chat are the number of solved tickets and the number of missed chats/calls during their highest volume times. When these numbers are high and low, respectively, they've met their criteria for success.
One of the ways Edmunds differs from many traditional businesses is that its customer-facing services are free on its website and app. Live Help specialists use the Edmunds.com site as their knowledge base, adding their own expertise and human touch. Each Live Help Specialist has to be an expert at using the site, well-versed in the car buying process, adept at customer service, and able to move between reactive and real-time support channels—sometimes even helping customers in the heat of a negotiation. It takes a special kind of person to handle all of these tasks with the attitude and intelligence that reflects the respected Edmunds brand image. And having tools that are flexible and easy to access, from anywhere, help the team accomplish their goals.
"Zendesk Chat and Support allow our team to work remotely, which fits in perfectly with our company's ROWE (Results-Only Work Environment) culture—allowing us to work from wherever as long as we deliver results. And, the results show with our overall satisfaction score hovering around 90% for all support inquiries."